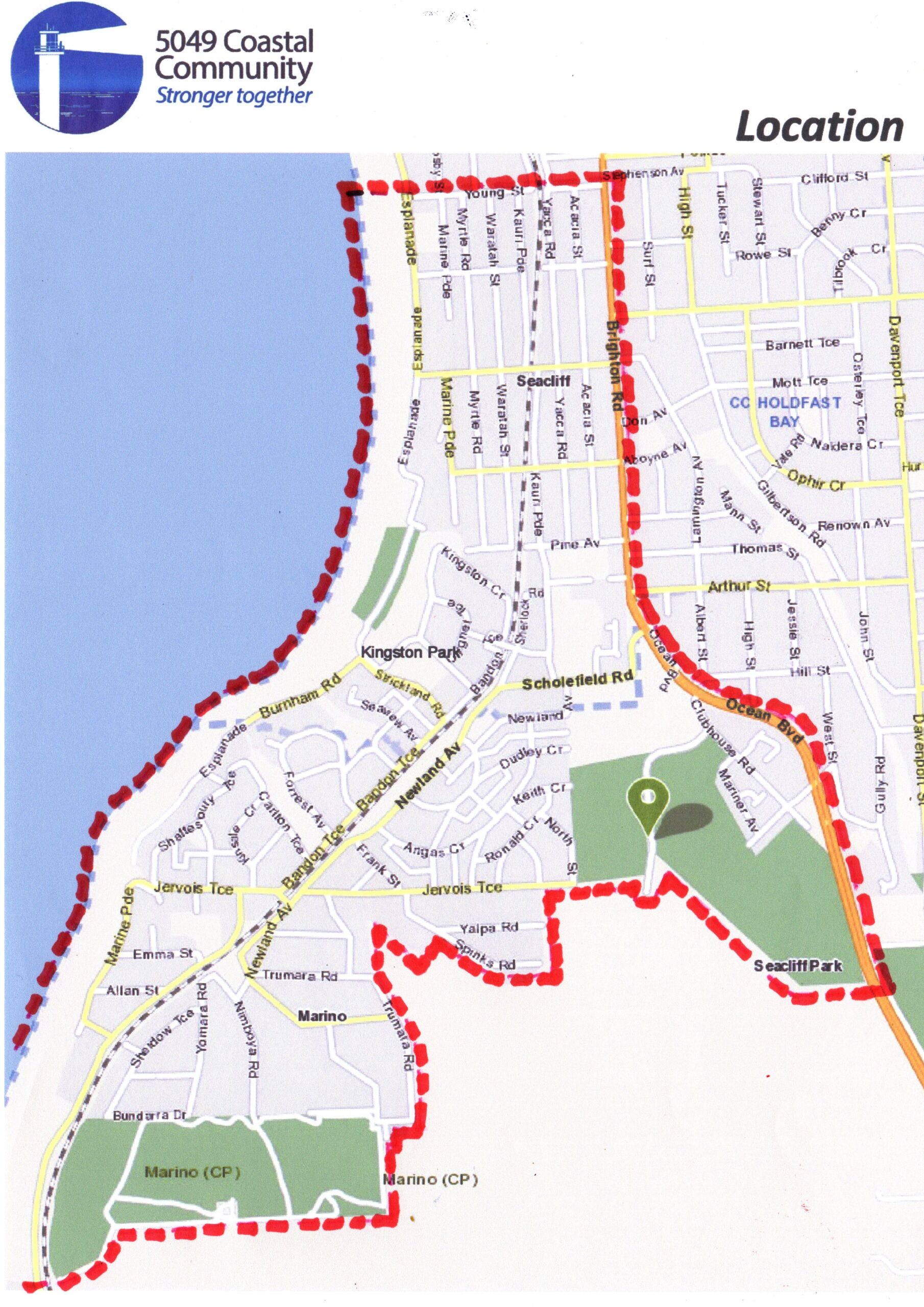 Our Suburbs
The 5049 postcode is shared by Marino, Seacliff, Seacliff Park and Kingston Park, small coastal suburbs of Adelaide, South Australia within the City of Marion and City of Holdfast Bay. The 5049 Coastal Community spans those suburbs west of Brighton Road and enjoys wonderful beaches, lots of beautiful reserves and walking tracks.
There are plenty of places meet up with friends to enjoy a coffee or somewhere to eat, a walk along the Esplanade or the Coastal Walking Track, but if cycling is more your thing – take the Marino Rocks Greenway cycle route, a popular commuting path following the Seaford line to Adelaide.  Check out Favourite Spots – 5049 Coastal Community (diydigital.com.au) for interesting places to go.
The Seaford Railway line passes through the suburbs with stations at Seacliff, Marino and Marino Rocks. Have a look here for details about public transport.
Our People
The 5yr Census (last 2021) always throws up interesting facts:
Education: We are indeed a highly educated lot in 5049 in all areas of education: preschool, primary, secondary and tertiary participation is higher than the proportion in SA. And we are good at volunteering – around 3% more of us (compared to SA) did voluntary work in an organisation or group over the previous 12 months.
Age: Are you surprised to know our median age (44) is somewhat older than SA (41) and Australia (38)? In 2022 4,431 married people outnumbered those who never married or were separated, divorced or widowed by a couple of hundred. And less than half of us claimed a religious affiliation.
Country of birth: The great majority of us were born in Australia (72.7%) – other countries of birth included England, Scotland, New Zealand, Germany and South Africa among others. The same with the language spoken at home – 86.9% spoke only English at home, but interestingly the other languages spoken at home did include Persian, Mandarin, German, Italian and Greek. First Nations people are few in number in our suburbs and the median age of those identifying as of Aboriginal heritage is 22 years.
Households: The bulk of the households are families owning 2 cars. The average number of people/household is 2.5 and average number of bedrooms/dwelling is 3.2.
Income: Our weekly personal, family and household income is some 20% higher than the median of SA. The weekly median rent is $375 compared to $300 in SA.  The median monthly mortgage repayments are $1852; that's higher than SA at $1500, but comparable with the rest of Australia at $1863.
Health: Many of us are lucky enough to enjoy good health with 6,276 people reporting no long- term health conditions.
More information from the 2021 Census about our suburbs can be found at the ABS website.