Photo from Sellicks Hill looking towards Adelaide showing the effects of light pollution on the night sky, taken by Andrew Cool who was instrumental in providing the information for Chris Tugwell as he worked towards setting up the Murray River Dark Sky Reserve (check it out!).
Around 75 people attended the Working Towards a Darker Sky seminar held at the Brighton and Seacliff Yacht Club on May 10, including the Leader of the Opposition/ former Environment Minister David Speirs and the Deputy Mayor Clare Lindop, as well as a number of local Councillors from the Cities of Holdfast Bay and Marion. (David Speirs came from another function and was resplendent in his kilt!)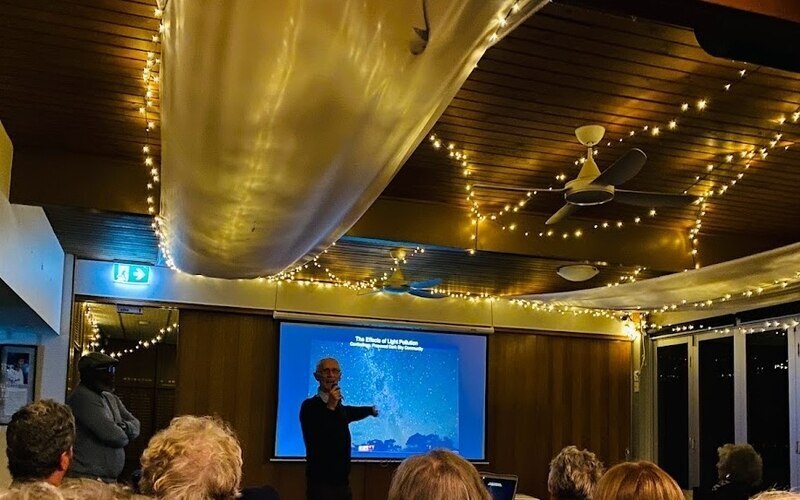 Speakers included Chris Tugwell from the Murray River Dark Sky Reserve, Martin Lewicki from the Astronomical Society of SA, and lighting designer Henry Elebra. They provided us with some excellent resources and information about the effects of badly designed lighting on humans, wildlife, and of course for viewing the stars.
 Henry presented us with possible ways forward to mitigate many of the current problems using existing technology and a better approach to planning and design. Lighting should be only be as bright as needed, properly shielded to direct light to where it is needed, and set at a lower "colour temperature" (ie around 3000K which gives a warm, white glow rather the blueish glow of "daylight" LEDs). This will save money by optimising the power requirements, as well as reducing glare, minimising disruption to both human and animal circadian rhythms: and even help us to see the stars. A "win-win" for all!
 It was noted that, while Councils and Governments have moved to the provision of LED street lights in the attempt to be more environmentally responsible by reducing power requirements, in many cases the lights are poorly designed: too bright, with too much glare, inadequate or non-existent shielding and set at a colour temperature that is not beneficial to humans and wildlife.
 Responses were very positive from all present. There is certainly some political will to support the recognition of existing problems and work on solutions, as well as planning better for the future. We believe the event was a great start, and we are hopeful that it will provide a catalyst for future planning to incorporate better lighting and set a positive guide for development across the Adelaide area. After the input sessions, many people were able to look through one of the telescopes that were set up on the balcony by members of the Astronomical Society of SA.
 Special thanks to the City of Holdfast Bay for their grant support to cover the venue hire, and to Sue Wiseman for her vision and enthusiasm in raising the issues and encouraging change.